NOTA: Questo corso è erogato in lingua inglese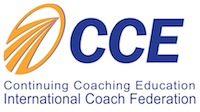 The Voice Dialogue training is for coaches and professionals working in the area of personal growth and development. It provides a comprehensive grounding in the theory and practice of Voice Dialogue, The Psychology of Selves and the Aware Ego Process. At the end of the training participants will have a powerful new tool that will complement their practice and enhance their ability to help clients achieve more balance in their lives.
The training is experiential and process oriented and based on the ancient wisdom:
"I hear and I forget, I see and I remember, I do and I understand."
The training is structured in two steps: Level 1 and Level 2 .
Continuing Education Credits
Only for participants completing the entire training (Level 1 and Level 2). This program is granted 53 Continuing Coach Education Units (CCEUs) by the International Coach Federation. The breakdown of the credits is 41.25 Core Competencies Credits and 11.75 Resource Development Credits.
Testimonials
"Voice Dialogue is a powerful tool to use in coaching. It allows the client to have an immediate and profound awareness of the patterns that limit him and of those that allow him to expand his capabilities." Giovanna D'Alessio, MCC
"The methodology of Voice Dialogue allowed me to increase my level of self-awareness and to help my clients do the same. The application of Voice Dialogue help the coachee to better understand  himself and the dynamics of his decision processes, leading him to work more effectively towards his goals."  Stefano Petti, PCC
"I believe Voice Dialogue to be a valuable tool mainly for coaches who follow the ICF coaching approach. By following a precise protocol, the coach enables the client to explore and discover and be open to any possible development of this exploration, without aiming at reaching a "right" goal.  Voice Dialogue gives my clients the opportunity to recognize and have a conscious access to the variety of their own possible ways of being, and experience more freedom in their choices." Pier Paolo Colasanti, Partner & CEO Asterys Lab
Trainer
John Kent: John has studied Voice Dialogue with its creators, Drs. Hal & Sidra Stone in the USA and Europe and assisted them on their training. From 1991 to 1995 he co- founded the Voice Dialogue Centre of Tucson, Arizona and taught Voice Dialogue in San Francisco. He is now based in London where, as the Director of Voice Dialogue UK, he facilitates private clients and leads workshops. He's author of the book "Selves in Action. How different parts of us inform and influence our daily lives."
Program
Voice Dialogue Level 1 (3-day Workshop)
Theory and practice of Voice Dialogue and its application
Benefits
Understand the theory of the Psychology of Selves and the Aware Ego Process
Develop the skills necessary to access and facilitate selves in a safe way
Use energetics to deepen your clients' awareness of their many selves
Incorporate basic Voice Dialogue Techniques into your coaching practice.
Methodology
Short talks and presentations by the trainers
Demonstration sessions
Group, pair and individual exercises and practices
Q & A debriefing sessions
Supervised facilitation
Workshop Content
Theoretical background to Voice Dialogue
Origin and function of Primary selves
Becoming conscious of Disowned selves
Introduction to the Aware Ego Process
Demonstration and practice of basic facilitation skills
Introduction to energetics
The Inner Critic – handling guilt and shame
Mapping the selves
The workshop includes supervised facilitation and personal feedback.
Structure 
1 three-day Workshop
Dates
May 31st, Jun 1st, 2nd 2013
(Training begins on Friday May 31st at 10.30 am and ends on Sunday Jun 2nd at 4.00 pm)
Accommodation
Hotel Litta Palace – Lainate (Milan)
Price
1.300 euro + VAT
Early Bird 10% discount for subscriptions within March 18th
Special prices for Alumni and ICF-Italia Members
Accommodation and travel expenses are not included.
Voice Dialogue Level 2 (two 3-day Workshops, 6 one-to-one sessions and self-study materials)
Becoming a skilled Voice Dialogue Facilitator
Benefits
Gain a thorough understanding of Voice Dialogue, The Psychology of Selves and the Aware Ego Process
Learn how to work with judgements, dreams and body symptoms
Help your clients understand their relationship issues using the Bonding Pattern model
Understand how the Theory & Practice of Voice Dialogue can be applied to a range of client issues
Advance your own personal development
Become a skilled and sensitive Voice Dialogue practitioner
Methodology
Short talks and presentations by the trainers
Demonstration sessions
Group, pair and individual exercises and practices
Q & A debriefing sessions
Supervised facilitation
Written, video and audio material
Private sessions (face to face or via Skype)
Workshop Content
Workshop 1
The dance of selves in relationship
Positive and negative bonding patterns
The three aspects of conflict
Handling underlying vulnerabilities
The influence of family dynamics
The role of the Inner Patriarch and Matriarch
Centering and grounding techniques
Workshop 2
Dialoguing with the selves in dreams
Understanding dream themes and motifs
Working with fantasies
Communicating with the body
Dialoguing with the self behind the symptom
Adding Voice Dialogue to your existing practice
Advanced energetics
All workshops include supervised facilitation and personal feedback.
Self-study Material
There will be required self-study reading, viewing and listening throughout the program. In addition, you will be given a comprehensive set of exercises that will help you to deepen your understanding of all the topics covered during the workshops.
Structure
The training includes two 3-day Workshops. Over the course of the training, participants will receive a total of 6 personal 90- minute facilitations from the trainers (face to face or via skype), and will be expected to complete a minimum of 20 practice sessions with other members of the group. Video conferencing facilities will be available so that the group can stay connected at distance.
Dates
Sep 27th, 28th, 29th (arrival Sep 26th in the evening)
Nov 29th, 30th, Dec 1st (arrival Nov 28 in the evening)
Price
3.200 euro + VAT
Special prices for Alumni and ICF-Italia Members
The tuition fee does not include accomodation and travel expenses.
Accommodation
West Garda Hotel, Padenghe sul Garda (BS)
Information
The Campus